The Holden Age of Hollywood by Phil Brody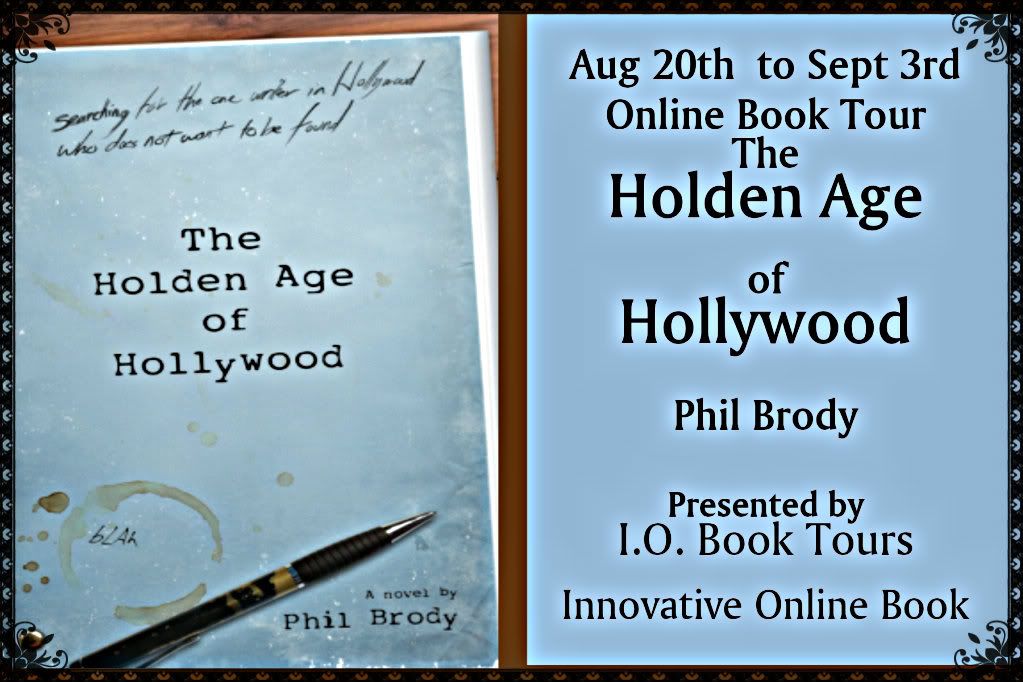 Description:
"Hollywood died on me as soon as I got here. Welles said that, not me, but damn if he didn't nail it, you know?"
Sam Bateman came to Hollywood to settle a score, but amidst the sunny and 75, his plans went astray. Everything changed the day he drank in the intoxicating legend of Meyer Holden, the greatest screenwriter Hollywood has ever known, the one who pulled a Salinger and walked away. Holden now tacks pseudonyms onto works and buries them in the bottomless sea of spec that is Hollywood's development process. They're out there for anyone to find - but at what cost? In his quest, Bateman severs all ties and sinks into a maddening world of bad writing and flawed screenplays. Paranoid and obsessive, the belligerent savant encounters an eccentric cast of characters - each with an agenda - in his search for the one writer in Hollywood who does not want to be found.
Phil Brody's The Holden Age of Hollywood is at once a detective novel, an unexpected love story, and a provocative expose of a broken industry. With dark humor and incisive commentary, the novel immerses readers in a neo-noir quest to attain the Hollywood dream, integrity intact.
Enjoy this excerpt from the novel:
I escape to the patio, perch myself at the bar, where the bartenders can't pour the Red Bull or the Kettle One fast enough. I watch them work, mesmerized by the stampede for this overhyped mixture of depressant and upper. I know no one uses terms like that anymore—
depressant, upper.
Call me old-fashioned. Actually, call me well-rounded. Helps me do my job and deal with the reason I'm doing time in this town.
Drink to that.
I nod once to my best friend at this party, my only friend in this fucking town—the bartender. Not this bartender per se. Every bartender. They mix a cure for what ails me. Sure, it's a momentary cure, but those are some of my happiest moments. Way it is.
Too many people. Too loud. Attitudes starting to asphyxiate. I stare at the sea of lights, the view from the Hills of this coldfuckcold city that's 75 degrees every day. It's an endless four- story grid of isolated, lock-the-door-behind-you lives, where everyone is either so wrapped up in creating their own success story or so damaged from their failure that resentment for one another is all we have in common.
Lights everywhere twinkle, look so inviting, but it's a trick. I know it.
Meet the author: Phil Brody:
Phil Brody lives in Los Angeles and writes every day. Born and raised in Cleveland, Ohio, he relocated to Chicago after college and enjoyed a successful career in Chicago in advertising. After moving to LA, Brody toiled in development, penned a few spec scripts, and has worked as a writer, producer, and director in documentary TV. His short film, A Blue Christmas, was the grand prize winner in The Short Film Group's First Annual Script Competition and was acknowledged in the WorldFest-Houston and Cleveland International Film Festivals. Brody is a graduate of Miami University of Ohio and an alumnus of Writers Boot Camp in Santa Monica, California. The Holden Age of Hollywood is his first novel.
Check back soon for a guest post by Phil Brody himself!
Now, Win something! Here is a giveaway for a $30 giftcard to Amazon. It would probably be a good idea to get yourself a copy of Phil Brody's The Holden Age of Hollywood.
a Rafflecopter giveaway